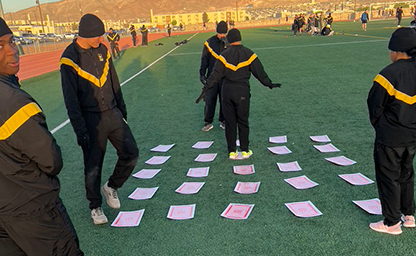 Improving Team Morale at Fort Bliss
Soldiers from the 2nd Battalion, 43rd Air Defense Artillery at Fort Bliss, Texas participated in three team building exercises focusing on optimism.
Soldiers divided into teams to compete in three physical training activities:
The Floor is Lava – two teams competing to complete as many floor grids as possible. The goal of the game is for team members to move from the starting point to the finish without any part of the player's body coming into contact with the floor aka Lava.
Noodle Tag – teams or individuals strategizing to tag opponents with their foam noodles. Tagged players must complete 20 second planks and if they're tagged three times, they are eliminated from the game and take laps around the field.
Tank Commander – teams of two are either labeled Tank or Commander. The Commander instructs the blindfolded Tank to pick up "ammunition" and hit opposing Tanks. When a player is hit, the team needs to leave the field to complete an exercise. If teams are hit three times, they are eliminated.
The training ended with the battalion discussing how they felt physically, mentally, and emotionally about the activities in addition to how the exercises impacts team morale. Want to sign up for these fun exercises? Find your closest R2PC today!
Learning Signs When Soldiers Need Support
Army leaders based in Northern Japan participated in five days of certification training for Ask, Care, Escort-Suicide Intervention (ACE-SI Tier 2) and Engage Training for Trainers.
Non-commissioned officers trained in ACE-SI and Engage to obtain knowledge and skills to identify when their Soldiers display norms or behavioral change. When leaders can see risk factors and warning signs in Soldiers, they can quickly get involved and help Soldiers access the support they need. Feedback from the training indicated that leaders felt more confident in how to relate to their Soldiers and unit and how the learned tools will impact their personal and professional lives. Sign up here to improve your engagement skills today!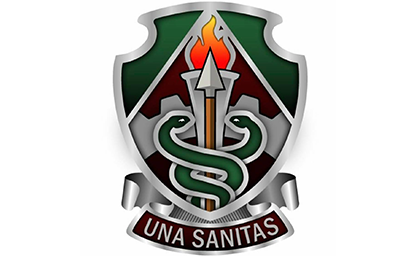 Health Command - Atlantic Learns Resilience Skills
The Industrial Hygiene Division of the Public Health Command - Atlantic participated in a variety of resilience exercises at Fort Meade, Maryland to improve accountability and adapt to leadership changes in the workplace.
Participants of the Blended Skills Training learned an abundance of resilience tools from Master Resilience Trainer - Performance Experts. Activities included:
Cube - a team building activity where the goal is for each member of the team to pass through the cube, with the help of other team members, without tipping the cube over.
Activating Event, Thoughts, and Consequences Model - identifying heat of the moment thoughts from an event, the consequences of those thoughts, and learning how to have greater control over emotions and reactions.
Boundaries, Reliability, Accountability, Vault, Integrity, Non-judgment, and Generosity Model - focuses on individual behavior and the different elements of how to build and establish trust.
Participants also learned energy management, effective communication, and counterproductive thinking. Interested in any of these activities for your installation? Contact your nearest R2PC to improve your working environment!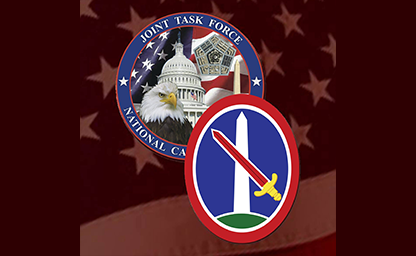 Why Performance Training is Important
A capabilities brief at Fort Myer, Virginia was provided to the Command Sergeant Major and other senior leaders of the U.S. Army Military District of Washington featuring the benefits of the R2 Performance Training program.
Master Resilience Trainer - Performance Experts (MRT-PEs) highlighted leadership skills during the capabilities brief focusing on new training offerings such as the Counseling Enhancement Workshop, Gaining Resilience in Training, and Squad Leader Development. To demonstrate how R2 training is interactive and not just a classroom setting, CSMs participated in the infinite loop activity where they partnered up and worked together to disengage from the ropes on their wrists that were intertwined. Lastly, MRT-PEs discussed the individual zone of optimal functioning (IZOF), a model that focuses on an individual's preferred level of anxiety that allows them to perform at their optimum. Participants discussed their performances, how IZOF applies, and strategies to be best at their roles. To enhance your leadership skills, schedule R2 training today!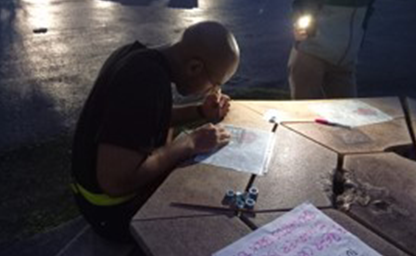 Physical Readiness Training (PRT)
Japan - based platoons from Delta Battery 1-1 Air Defense Artillery participated in Physical Readiness Training focused on resilience.
Dynasty platoons were divided into teams for some friendly competition to test their readiness in adverse conditions. Each team had to work together, communicate effectively, and utilize energy management to prevail against the others during several mental and physical exercises. The Land Navigation obstacle in particular challenged Soldiers' mental strengths by having them identify 6-digit grid coordinates. After the training concluded, each Delta Battery platoon became more efficient and resilient. Find your closest R2 Performance Center to test your readiness!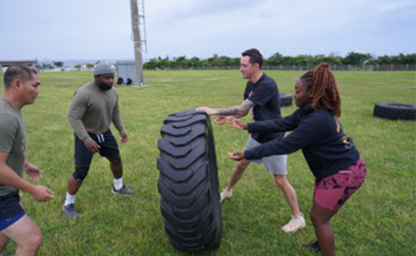 Warrior Maintenance Day
The 10th Support Group from U.S. Army Japan Headquarters participated in resilience-focused Physical Readiness Training as part of Warrior Maintenance Day.
Soldiers competed in several physical challenges designed by Master Resilience Trainer - Performance Experts to enhance team building, effective communication, and resilience. Participants learned to work together while memorizing information to complete obstacles such as transporting kettlebells, walking lunges, and tire flipping. The day also included an award and promotion ceremony, classes on suicide prevention and safety, and concluded with a safety brief. After facing physical and mental exertion as a team, the 10th ended the day with stronger unit morale. Schedule training here to enhance your resilience!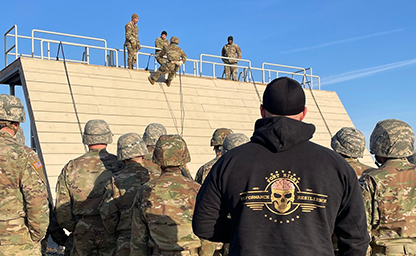 ROTC Spring FTX at Fort Riley
Master Resilience Trainer - Performance Experts (MRT-PEs) taught over 500 Cadets from seven Midwestern universities mental skills during a four-day Spring Field Training Exercise (FTX) at Fort Riley, Kansas.
The Spring FTX is an annual exercise to prepare Cadets to succeed at Reserve Officers' Training Corps Summer Camp, continue the development of senior Cadets, and prepare newer Cadets for the program. This year, MRT-PEs were on-site to assist at crucial locations. Cadets learned on the field self-talk/real-time resilience to overcome the confidence course and how to manage nerves with deliberate breathing while conquering the 64-foot Rappel Tower. The mental skills training proved successful with Cadets returning to campus more resilient, prepared, and inspired for future advancements. Sign up to enhance your readiness skills today!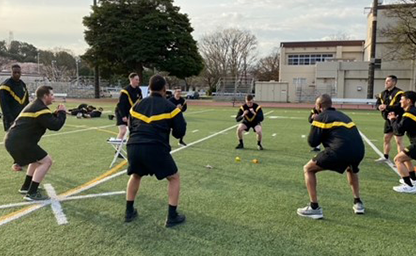 Team Building at Camp Zama
Soldiers from U.S. Army Japan Headquarters worked with R2 Performance Experts to build stronger bonds, increase trust, and enhance morale.
The training focused on a specifically designed unit cohesion exercise where participants rotated through five stations of mental and physical challenges. The stations consisted of energy management, team building, and identifying character strengths. During the After Action Review, participants gave positive feedback of the event and requested a series of seven performance enhancement modules and additional support from R2.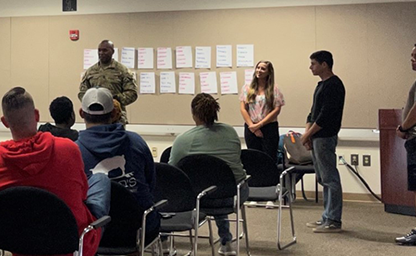 Continuous R2 Training
The 2-39th Infantry Battalion cadre at Fort Jackson, South Carolina, took advantage of their Basic Combat Training Cycle reset to attend R2 classes for professional development.
The purpose of these classes was to build morale and learn the many tools and services offered by the R2 Performance Center. Members participated in an open discussion on resiliency, character strength, and team building – all needed skills as they put in long hours developing the next generation of Soldiers. After positive feedback on the exercises learned, resilience training will be scheduled in the future for Fort Jackson's Fighting Falcons team.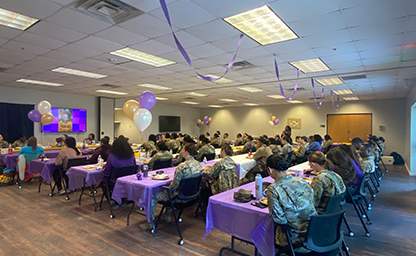 International Women's Day Conference
The 10th Special Forces Group (Airborne), or 10th SFG(A), at Fort Carson, Colorado hosted an International Women's Day Conference entitled "Break the Bias."
As part of 10th SFG(A)'s strategy to provide opportunities for mentorship and peer support among its female Soldiers, an R2 guest speaker was invited to discuss resiliency. The event included resilience myths and facts, plus confirmation bias. The conference began with a video of numerous high-ranking women, serving across the Army, sharing special messages of support and included a panel of five local female military leaders.