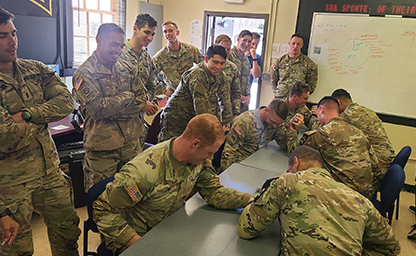 Small Unit Ranger Training Course
The 7th Infantry Division's Bayonet Academy, the Division's Small Unit Ranger Training (SURT) course, sought mental skills training from Joint Base Lewis- McChord, Washington's R2 Performance Center. The goal was to improve pass rates for Soldiers attending Ranger School.
The SURT Course assesses and trains approximately 400 Soldiers per year, with Soldiers from every branch across the Division. During 10-day course, Soldiers built confidence during an arm-wrestling challenge, communicated effectively as a squad to accomplish several different tasks, and practiced imagery for disassembling and reassembling an M240 machine gun.
Want to challenge your mental skills? Schedule training here!