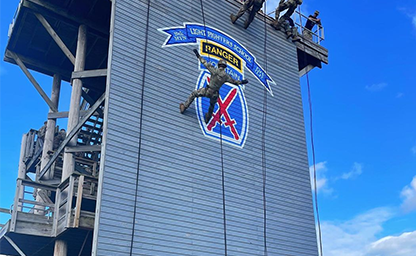 Improving Passing Rates for the Sling Load Test
During the recent Light Fighter School Air Assault Course at Fort Drum, New York, Soldiers from across the 10th Mountain Division used enhancement techniques to focus on attention to details and identify deficiencies when completing the course's sling load test.
A Master Resilient Trainer-Performance Expert from the Post's R2 Performance Center led Soldiers through a series of classes focused on new techniques to identify deficiencies and detect shortcomings during an operation, the OODA loop (observe, orient, decide, act), and exercises on Imagery and Memory Hacks. The training assisted Soldiers in passing the course with a 90% graduation rate and earning their coveted Air Assault Wings.