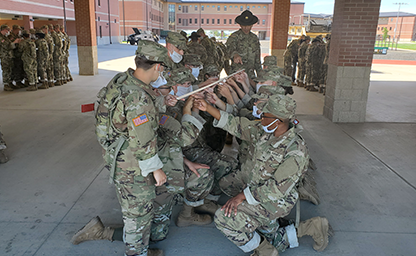 Team-Building Event Helps Build Camaraderie Amid Isolation
The Fort Leonard Wood Ready and Resilient Performance Center assisted the 795th Military Police Battalion with a company-wide team-building event that was executed at the conclusion of their 14-day controlled monitoring phase due to the pandemic.
The event, coined "Hammer Drop", was designed to showcase military platforms and equipment in hopes of sparking excitement while building camaraderie. The "Corporate" helium stick team-building activity was developed with three target areas in mind. The first target area was designed to teach teamwork along with resilience and performance enhancement skills. The second and third target areas involved observing trainees executing the exercise while the drill sergeants involved observed trainee communication, self-awareness, mindsets and character strengths. This event served to motivate Soldiers, thus giving them something to look forward to as they exited isolation and commenced their BCT training.